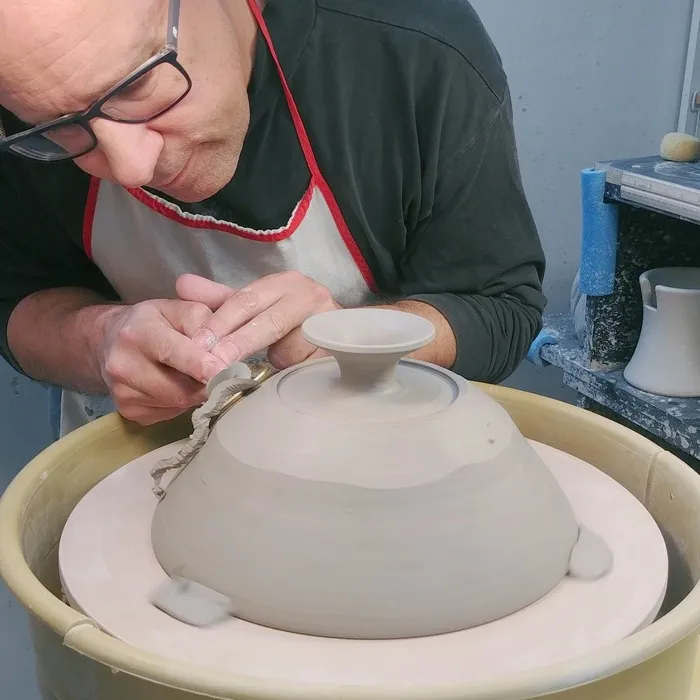 I began my journey as a potter on the potter's wheel in 2002, under the inspiring guidance of Lyse Fleury, a renowned Quebecois potter. For many years, I diligently followed her teachings, practicing several hours a week on a kick wheel, the famous Legault model. Thanks to her kindness, I was able to experiment with various forms and develop my skills.
I quickly acquired a Legault wheel near my home, as well as a small electric kiln shortly after. This equipment provided me with greater autonomy, allowing me to practice pottery at home. I made pieces for my colleagues at work and exhibited them during events organized at Lyse's studio in the spring.
But one day, I felt the need to become independent in order to consolidate my skills. That's when I decided to continue my practice on my own. I also started experimenting with making my own glazes, searching for recipes on the web or in specialized books. This process allowed me to find colors and textures that perfectly match my tastes and aspirations, revealing the complexity of the art of pottery.
Since 2015, I made the choice to turn my passion into a full-time professional activity. I have participated in numerous Christmas fairs and summer markets and in 2023, I participated in the biggest pottery event in Quebec: 1001 Pots! I now primarily focus on these types of events, where ceramics are celebrated. My journey has also led me to participate in other similar events, such as Céramystic in Way's Mills and Parcours Céramique in Montreal.