Recipes
Chicken and sausage tajine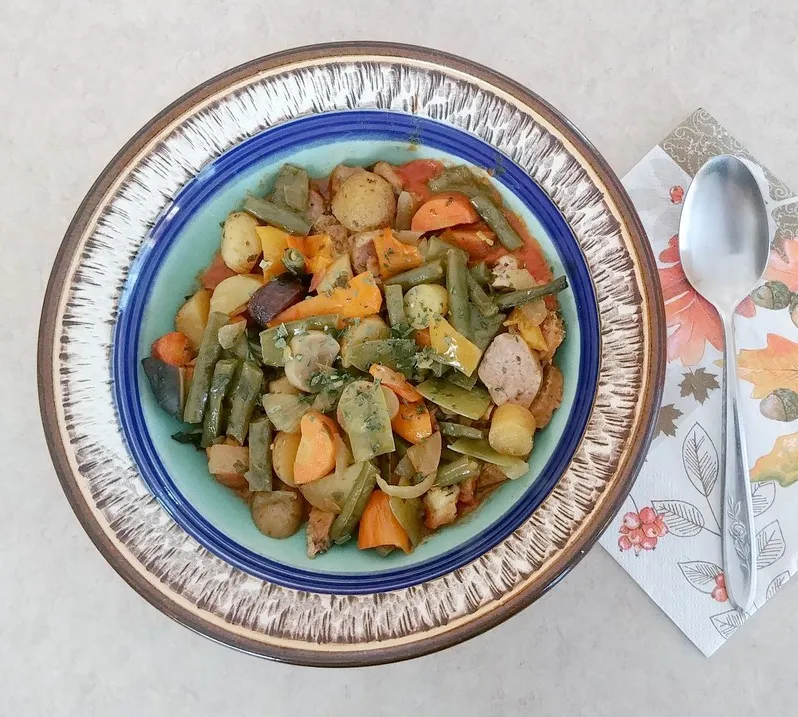 Ingredients

4-6 mixed whole sausages
4-6 raw whole chicken backs
Salt, pepper, dried herbs, ground cayenne pepper, curcuma, Worcestershire sauce and/or another of your choice
3 t. s. olive or avocado oil
Raw chopped vegetables: Red or white onions, potatoes (small or large) (medium to small cubes), leeks, peppers (red/green/yellow), carrots (small slices), mushrooms, Brussels sprouts and any other vegetables you like (green beans, corn kernels, butternut squash, hot pepper, parsnips, sweet potatoes, etc.)

Note: Make sure you don't have too many pieces larger than a cubic inch (especially for potatoes, carrots, and similar vegetables that take longer to cook), as they might be undercooked compared to other vegetables.
Preparation

In the bottom of the tajine, put 3 t.s. of oil
Put a layer of leeks, onions and mushrooms
Put another layer of another vegetable
Place the chicken backs
Add a layer of leeks and onions
Add cayenne pepper, curcuma and herbs
Add the sausages
Spread a good layer of other vegetables, filling in the spaces between the sausages
Every second layer, add: salt, pepper, cayenne pepper, curcuma and herbs
Continue adding rows of vegetables until it is full
Add Worcestershire sauce (or another) to taste

Tip! It is best not to add broth especially if you have a lot of vegetables!
Notes
Place the covered tajine in the oven (bottom rack), set the temperature to 350°F and cook for 1h15 - 1h30.
After 1h15, take out the tajine to check if the broth is sizzling: if so, it's ready, place the hot tajine on a heat resistant pad on the counter and turn off the oven. If not, let it cook another 15 minutes.
After it's cooled a couple of minutes, using a couple of wooden spoons, stir everything and (optionally) cut the chicken and sausages into pieces and serve (or even better, place the tajine on the table to allow your guests to see your beautiful tajine!). Enjoy!
DO NOT PLACE TAJINE IN A HOT OVEN, ALWAYS IN A COLD OVEN.
And you must ESPECIALLY never place the tajine on a stovetop burner/element or on a BBQ grill!